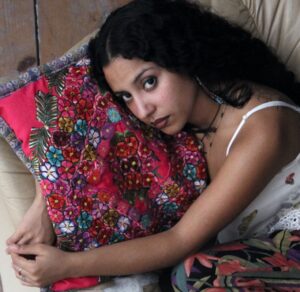 2011 – 2015 BA in Fine Arts at the Complutense University of Madrid, Faculty of Fine Arts and later at the Faculty of Fine Arts in Budapest, Hungary, being part of the ERASMUS scholarship, from the European Union.

2019 MA International Management of Museos, ESNECA, Madrid, Spain.

Since 2007, she begins with a series of more than 40 artistic residencies at International Art Symposiums in countries such as France, Hungary, Italy, Turkey, Serbia, Spain, Romania, Transylvania, Slovakia, Slovenia, Iran, Austria, Poland and Bosnia Herzegovina where a network of connections begins with artists from all over the world. Participate in various group and individual exhibitions at the Limes Gallery in the city of Komarno in Slovakia. Simultaneously, she received a scholarship from the National School of Plastic Arts, ENAP, San Carlos Campus in Mexico City, in the drawing and materials as well as painting techniques workshops, and later attended the "Painting and Approach to Visual Arts" workshop from La Esmeralda, INBA, Mexico City. In 2009 she participated in the "X Biennial of Plastic Arts" in Habana, Cuba, at the Instituto Superior de Arte, ISA, in the presentations of the Experiences Workshop in the training of young mural painting restorers at the Gaspar Melchor de Jovellanos school, Learning about the conservation of cultural heritage, Panel on art and artistic teaching, Teaching of Color in restoration and Experiences in the training of bookbinders of the National Library of Cuba, likewise presents her exhibition project "Through the gaze of a child "at the Teodoro Ramos Blanco Gallery in Havana, Cuba.
From this moment, her work focuses on promoting identity and traditions in Mexico. On two consecutive occasions she receives the First Prize for Installation "Municipal Altars of the Day of the Dead" with the students of her painting workshop at the Casa de Cultura in Playa del Carmen. She makes various murals in spaces for education both in Mexico and in Spain and Italy, including "Pre-Hispanic Food" Colegio Mayaland and "Our Roots" Community Development Center of Ejido, in Playa del Carmen, Quintana Roo. "URUPIA", Urupia Foundation, Franca Villa Fontana, Italy, where she consecutively teaches art workshops for children (2011-2016). 2011 She made the mural "Molina de Aragón" in the Municipal Library of the Town Hall of Molina de Aragón, Castilla de la Mancha, Spain, accompanying his solo exhibition at the Portocarrero Salon "Poetry to my roots" and in 2013 in the Galería el Cubo de Pozuelo de Alarcón in Spain. Subsequently, she participated in the Scholarship as an artistic group, in the Cultural Promotion and Co-investment Program with the project "Cultural Caravan" in the Mayan area of Quintana Roo. Receives Honorable Mention in the contest, "Love and eroticism", Amarte Maroma gallery, Riviera Maya. Honorable mention in the subject Teaching Bases for Art Education and Contemporary Painting Projects at the Faculty of Fine Arts of the Complutense University of Madrid.
During her career she has been curator of different artistic projects including "Segment VIII" of Hungarian contemporary art, carrying out the International exhibition at the Amarte Gallery in the Riviera Maya, which proposes a cultural exchange between Mexico and Hungary, in 2015 becomes the exhibition of contemporary Mexican art "From the heart of Mexico", in collaboration with the Embassy of Mexico in Hungary, at the MAMÜ Tarsasag Gallery in Budapest. Participate in the Performance Festival "Transart Communication", MUZI Budapest and Nove Zamky in Slovakia. 2016 Teacher of the Visual Arts. UQROO, University of Quintana Roo, Campus Playa del Carmen, Mexico. Curator of the exhibition "TERRA" by the photographer Sebastiao Salgao (Brazil), "Festivale dele Terre", URUPIA Foundation, Salento, Italy. In 2017 she is General Director of the  First International Painting Symposium "Oaxaca- Tierra del Mezcal"in collaboration with the Museum of Oaxacan Painters as well as Art Director of the First International Art Symposium "In the Navel of the Moon" Mexico City 2018 with the support of the Higher School of Engineers and Architects of the Instituto Politécnico Nacional IPN. Art Director of Galería 18, Playa del Carmen Quintana Roo. In 2019 Director General in Mexico of the international project of Nature art GLOBAL NOMADIC ART PROJECT with YATOO association of Korea. Participates in the VAS (Vienna Art Sumit) congress in the panel of lectures Eurasian Academy of Art of Austria. Conference about JAGUAR NEGRO, Art Residence in Sacbe, ecological village in Playa del Carmen in the University of Fine Arts Budapest, Hungary. 2019, Panel of Conferences on Art and Nature. Darmstadt, Germany. Curator of the Municipal Prize for Visual Arts and Photography – Solidaridad 2019.
2019 Co-founder of JAGUAR NEGRO Center for Art and Culture, Pueblo Sacbe Playa del Carmen Quintana Roo.
Being a visual artist, she uses different media to carry out her work, where painting, installation and performance develop the narrative of her research. Anthropology and art converge in her works, resulting in a mixture of sensations and emotions that seek to bring the viewer closer to contemporary thinking of Mexican culture in all its irony and absolute mysticism.
Her most important solo exhibitions are "La loteria Mexicana", Gallery IX, in Budapest, Hungary and Museum of the Island of Cozumel, "Salsa Malverde", Galeria Slovakia and "Madona Negra" in Slovak National Theater in Bratislava, Galeria 18 Playa del Carmen, Frida Kahlo Museum, Playa del Carmen and Nocy Kulturalnej in Konduktorownia Gallery, Czestochowa, Poland. "FROM ABSTRACTION TO FIGURATION" Provance France. 2019, "GODDESS", Ratzenhofen Castle, Elsendorf, Germany. "MITZEMOA NOYOLLO", Mestske Kulturne Stredisko Galanta, Slovakia.
Among the selection of group exhibitions between 2010 and 2016 are: "MONANISA AND I", Galeria Seyhoun, Teheran. Iran, "UCM, Projects of the San Carlos Hospital", Madrid. Spain., "THE BODY, RESIDENT", Photographic exhibition, la Trasera Gallery. Complutense University of Madrid, Faculty of Fine Arts. "SPACES OF UNCERTAINTY", Barcsay Hall. Budapest Faculty of Fine Arts. Hungary, Kortárs Magyar Galéria, Dunajská Streda, Slovakia. "SPACES OF UNCERTAINTY, UNCLAIM BAGGAGE". University Arts Festival, Krakow, Poland. "LES NOUVELLES METAMORPHOSES", Festival of Contemporary Art, La Mothe St. Heray. France. "AIA, Amore International Art", Seoul, Inchen, Busan, Yongin city Seokdang Museum, Korea. "CONTAINER + NOMAD PROJECT", Box Museum. Korea. "INTERNATIONAL EXIBITION BOKROS", Komarno Gallery, Slovakia. "YAS, Young Art Show 8", House of Art Piestány, Slovakia. "Go! Go! AIA", Box Museum, Suwon Gwanggyo Lake Park, South Korea. Asian Highway Exhibition, SeokDang Museum of Art, South Korea. "POCITELJSKA PRICA" 2016, Roman Petrovic Gallery, Sarajevo, International "FORUM AQUA", Malnitz, Austria. 2017 "OAXACA-TIERRA DEL MEZCAL", Museum of Oaxacan Painters. Oaxaca, Mexico, "II NOVE ZAMKY", Slovakia, "II BOKROS" 2017, Limes Gallery, Komarno, Slovakia, "AMAR AL MAR", Scuba Fest 2017, Museum of the I Cozumel Island, Mexico. 2018 "CHATEAU KALPAK", Sarkoy, Turkey, "IV BOKROS" 2018, Galeria del Fuerte, Komarno, Slovakia. "TZOMPANTLI", Gallery 18,, Playa del Carmen. "COLLECTIVE PASSAGE", Gallery 18, Playa del Carmen. "PIONEERS", Museum of Mayan Culture, Chetumal, Quintana Roo. 2019 "ART AND EROTISM", Gallery 18, Playa del Carmen, Quintana Roo. "1st. Visual Arts Contest 2019", Elio Carmichael, Cancun Carnival, The Feast of Peace. "SIANOJA 2019". Noja, Cantambria, Spain, "CORRENCE 2019". Provance, France. "GNAP, Nature Art Fieldworks" Darmstadt. Germany, "GOLDEN GARDEN" 2019, Dunajská Streda, Slovakia. "ART CIRCLE 2019", Gorisca Brda, Slovenia.
Currently her work are in different countries, both in public and private collections, Cultural Promoter, Artistic Director and Art Curator.